In terms of landscapes, I would describe this trek as the most beautiful one I've ever experienced in my life. Below one can find a summary of the single days and in the end some additional information about the price and the tour companies.
Day One: Embarking on the Cordillera Huayhuash Trek
The adventure began with a car ride from Huaraz at 4:00 am in the morning. Hours of driving stretched ahead of us, with our first stop around 7:00 am for breakfast. However, this meal felt like daylight robbery – we paid more than we should have for what amounted to a rather modest spread.
The road beckoned us once again, and we pressed on until around 10:00 am when we finally reached the starting point of our expedition. We spent about an hour there, though not much activity transpired, as preparations were underway, including loading supplies onto donkeys.
Our actual trek commenced at 11:00 am with a demanding 500-meter altitude gain in the beginning, but the group took it slow, mindful of the need for acclimatization.
Upon reaching the summit, we were met with a stunning vista that unveiled both valleys – a breathtaking landscape we would undoubtedly gush about every day. We savoured a meal against this picturesque backdrop before descending into a valley of incomparable beauty.
Our camp greeted us after a total of 4 hours, including our lunch break. Covering only 8.5 kilometres, it was a relatively short day of hiking. Tents were quickly pitched, and we took a well-deserved tea break.
During this time, we consulted our guide to glean more insights into our journey, discovering that it would include numerous variations from the original map.
As evening descended, we went on a secondary hike to a nearby lake. We wrapped up the day with a satisfying dinner, sensing that a warm camaraderie was beginning to blossom within our group.
Exhausted by the day's activities, we retired to our respective tents around 8:00 pm, hoping that the night would not be too frigid!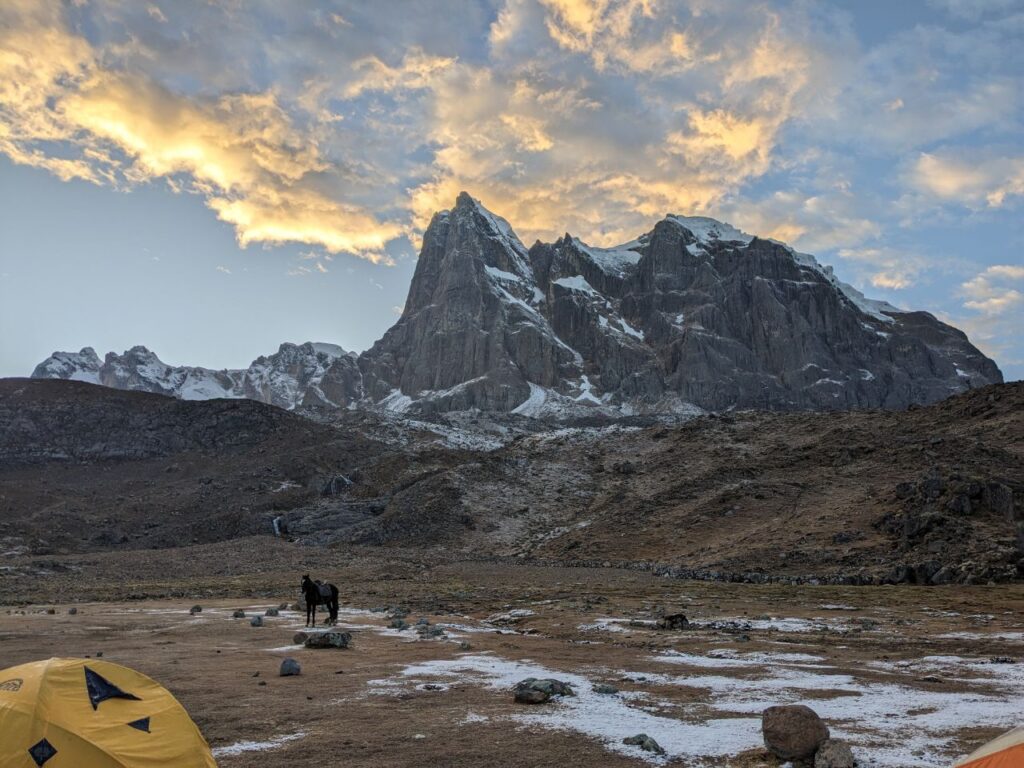 Day Two: A Gentle Start to Our Trek
The second day of our Cordillera Huayhuash trek greeted us at a more humane hour – around 6:00 am. Our guide thoughtfully delivered coca tea to the tents, which I denied, but the rest of the group drank every morning for the whole trek.
After efficiently packing everything except the tents, which our trusty crew managed, breakfast was served at 6:30 am. While it was a modest meal, it did the job in preparing us for the day ahead. By 7:00 am, we were ready to embark on what promised to be a relatively short trek.
Our journey for the day kicked off with a hill, although not as daunting as the previous day's ascent. We made our way up slowly, rewarded at each step with breathtaking vistas that showcased pristine lakes below. It seemed that every hill and mountain peak offered a new, stunning perspective on the surrounding landscape.
Four to five hours later, we arrived at our second camp, having covered a mere 10.5 kilometres. According to our guide, this was the easiest day of our trek. By 12:15 pm, tents were up, and it was time for lunch – a modest meal that left us feeling rather famished.
After some leisure time, we embarked on a short walk to gain a better perspective of the lake. Returning shortly after, we enjoyed a midday snack of popcorn.
As light rain began to fall, we retreated to the cooking tent, where conversation flowed as we eagerly awaited our evening meal.
Day Three: Mountains and Miradors
Our third day on the trek followed a familiar routine – coca tea, but not for me, breakfast, and departure at 7:00 am. As we set out, the weather smiled upon us, presenting a clear view of the magnificent mountains that had graced our journey thus far.
The day's hike began gently, not entirely flat but far less steep than our previous endeavours. For about an hour, we traversed this terrain before arriving at the first of two lakes scheduled for the day. These expansive bodies of water, awash in vibrant colours and illuminated by the sun, left us awestruck.
I lingered there for nearly an hour, partly awaiting the arrival of others and partly relishing the view in their company. Next on our itinerary was the day's first mirador, a 30-minute, steep ascent that rewarded our efforts with a sweeping view of three lakes – a truly astonishing sight.
Continuing along the same path, we encountered even steeper terrain, a 40-minute climb that brought us to the summit. Our guide, always ready for adventure, proposed an additional 100 meters of near-vertical ascent, almost climbing. The group enthusiastically accepted the challenge, and the effort was richly rewarded with breathtaking vistas.
After a well-deserved meal at a lower elevation, we commenced a two-hour descent, arriving at our camp around 3:30 pm. The usual routine ensued – a bit of relaxation, followed by a mid-afternoon snack, and anticipation for dinner, slated for 7:00 pm, all while we engaged in lively conversation.
As the day drew to a close, we marvelled at the clear, star-studded sky before retreating to our tents for a restful night's sleep.
Day Four: Scaling Heights and Unexpected Challenges
On the fourth day of our Cordillera Huayhuash adventure, our morning began as usual, though there was a subtle difference in the air. Everyone, including our guides, seemed to be moving at a more leisurely pace. Perhaps it was the accumulated fatigue catching up with us.
We set off around 7:30 am this morning, slightly behind our usual schedule. The day kicked off with two hours of climbing, a bit faster and slightly more challenging than yesterday, possibly due to our higher altitude. We crossed the 5,000-meter mark before reaching the day's pass.
As an added bonus, our guide proposed an extra ascent that nearly all of us eagerly accepted. This challenging climb brought us to an impressive 5,200 meters, treating us to the most breathtaking view yet. I couldn't contain my excitement, darting around like a child unsure of where to look.
Descent followed, leading us to our cook and, most importantly, lunch.
With some renewed energy from our meal, we had just one hour of trekking left – mainly downhill.
After covering approximately 15 kilometres, we arrived at our camp for the day. We immediately set up our tents.
Around 4:00 pm, snowfall started, coating the ground and our tents. We whiled away the time until dinner, which was still punctual despite the conditions. Exhausted and slightly concerned about some of our group members who were falling ill, we retired to our tents around 7:15 pm, hoping for a peaceful night's rest.
Day Five: A Snowy Wonderland
The fifth day of our Cordillera Huayhuash trek greeted us with the aftermath of a snowy night. Surprisingly, the landscape was even more enchanting with the fresh snow, especially considering that this region typically sees little precipitation during this time of year.
Our morning routine remained unchanged, though we departed with a sense of urgency. The cold prompted us to seek the sun's warmth as quickly as possible, and the temperature difference of 10-15 degrees was palpable.
Our ascent commenced, much like every other morning, but this time, it was gentler, lasting for just under two hours. We trekked through the snow that had fallen the previous day, requiring sunscreen and sunglasses to shield ourselves from the reflective brilliance.
Arriving at the summit, we were treated to another spectacular view, and we couldn't resist snapping numerous photos. We lingered for about half an hour, even frolicking in the snow, feeling like kids again.
Descending proved challenging on a steep and dusty path. We reached our camp around 1:00 pm, exhausted but proud after covering 8 kilometers that morning.
Since we slept next to a village in this night, I decided to sleep here in a hostel to get a shower, be able to charge my drone and back up my photos in the cloud.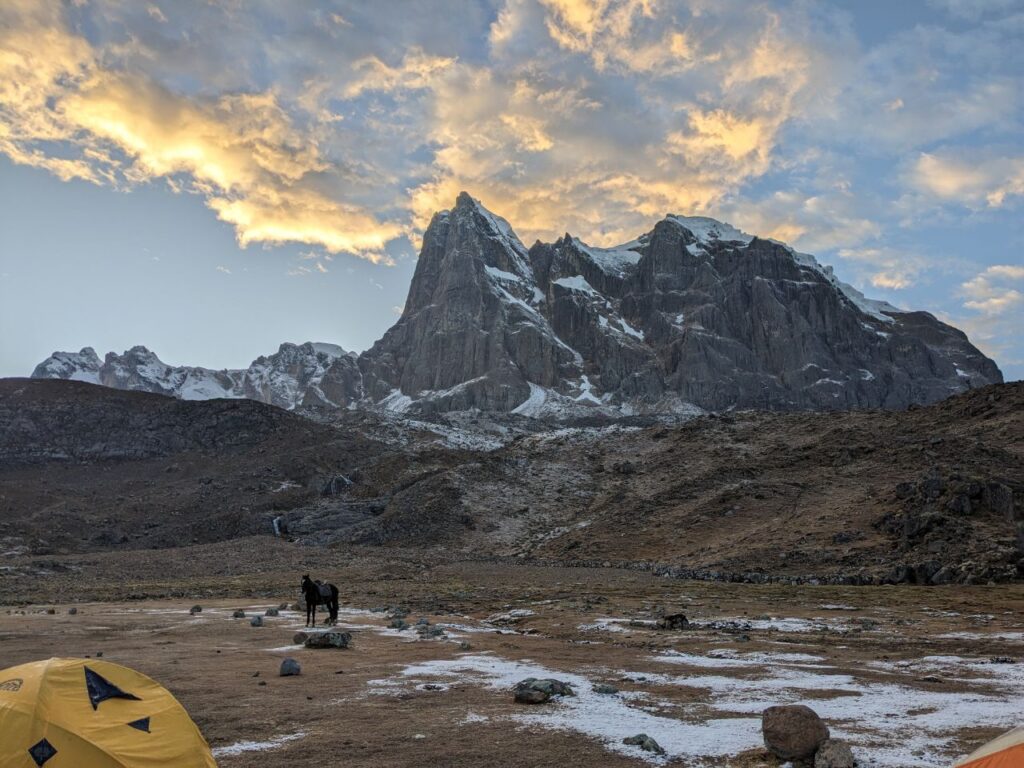 Day Six: Conquering the Final Heights
On the sixth day of our trek, the routine persisted, but the group was noticeably quieter in the morning.
Departing around 7:30 am, we embarked on a challenging day that began with a 1,200-meter ascent. We were determined to finish the trek on a high note, and there was no room for complacency. For nearly two hours, we climbed steadily, reaching an altitude of around 5,000 meters, marking our final high point.
The path was longer than expected, extending for 8 kilometres. Upon arrival at the summit, I waited for more than an hour to ensure the entire group gathered.
Our descent, the final leg of our journey, took just 40 minutes. We enjoyed a short bonus climb to the hilltop, offering a splendid view of the valley beyond our camp. Today's trek covered a total of 12.5 kilometers, and we were all fatigued by the time we reached our campsite.
After setting up our camp, we enjoyed a well-deserved lunch around 2:00 pm.
In the camp, I spent some quiet moments in my tent before dinner, a relaxed affair. Afterward, we gazed at the starry night sky, our last night in the wilderness graced by a shooting star.
Day Seven: Nearing the Journey's End
On the seventh day of our trek, with the end almost in sight, we experienced a surprisingly cold night. Within the warmth of our tents, we were comfortable, but venturing outside to relieve oneself was a frosty ordeal.
Our morning routine remained unchanged, but the cold urged us to move swiftly, desperate to bask in the warmth of the sun. The temperature difference of 10-15 degrees was keenly felt.
The day began with another ascent, two hours of gradual climbing that led us to an altitude of around 5,000 meters once more. We reached a mirador, a breathtaking viewpoint, where we spent nearly half an hour gazing at the condors soaring gracefully in the skies, a sight we cherished.
Continuing our journey, we descended a treacherous, steep path, then proceeded along a relatively flat path for over 10 kilometers. We paused for lunch around 12:30 pm, knowing we needed to pick up the pace to avoid arriving after dark.
The entire group found renewed energy after our meal, and we made good progress, reaching our camp after covering 10.5 kilometres.
Day Eight: The Journey's End and a Return to Civilization
Our eighth and final day of the trek had arrived. Our morning routine felt bittersweet, as we knew it would be the last time on this journey. Although the morning was still chilly, it was not as cold as the previous day.
Departing around 7:15 am, we embarked on the day's journey, which began with a relatively flat section. We eagerly pursued the sun to warm ourselves on this last leg of our adventure. After an hour of walking, we reached a pivotal moment where we had to decide between a challenging ascent and a simpler descent.
Opting for the challenging ascent, we climbed for two more hours, gaining about 250 meters in elevation. The path turned out to be longer than expected, but our determination prevailed. We reached the summit after covering a total of 8 kilometers.
The trek concluded with a two-hour descent, or perhaps slightly less, covering 6 kilometers. We were undoubtedly exhausted, but our spirits were high as we approached the village of Lamka around noon, where a shuttle awaited to take us back to Huaraz.
During the one-hour journey, we stopped for lunch, although the service was slower than expected. We then encountered an unexpected roadblock, a protest on the road. The protest leaders demanded payment from our driver for passage.
Finally, after an additional two hours of travel, we arrived back in Huaraz.
Cost
For the trek I paid 1750 soles to the tour company and 100 soles as a tip for the porters and the cook. But since the tents, sleeping mat and sleeping bags of the tour operator "galaxy expeditions" were in very bad conditions, the company who sold me the tour "mont blanc tour" refunded me 200 soles. In general, I can say that most tourist offices sell the tour and in the end they just assign you to a group from any provider, but most of the time they do not execute the tours themself.